Venerable Rewatha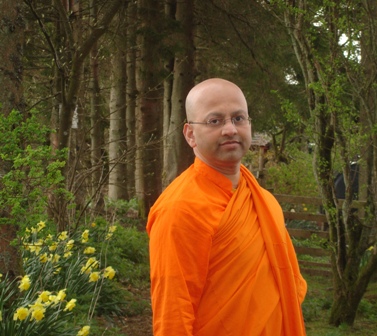 The chief incumbent at Scotland's Buddhist Vihara is Venerable Rewatha. (BA , MA, PGDE ) 'Bhante' as he is known comes from Dharmapala Pirivena in Belana, Kalutara District in the Western province of Sri Lanka.
Venerable Rewatha has been a monk for 30 years and studied at the University of Peradeniya in Kandy and the University of Kelaniya in Colombo. He is the author of two books on Buddhism and Astral Phenomenon and A Mindful Journey from Birth to Death. He has been running mindfulness meditation classes for local people in Glasgow for 8 years.
Since the Tsunami struck on Boxing Day 2004, Venerable Rewatha has been actively involved in charity work in Southern Sri Lanka. He is currently doing a research degree in Mindfulness Approaches at University of Bangor in North Wales. He also set up the UK's first ever Buddhist College in Glasgow and was recently appointed by the Sri Lankan Monks Council as the Chief Monk in Great Britain. Bhante is also the Buddhist Chaplain/Adviser to the University of Glasgow.