Staying at the Centre for World Peace and Health
At the north of Holy Isle there is the Centre for World Peace and Health where an ongoing retreat and course programme takes place. Anyone willing to abide by the Five Golden Rules is welcome to stay in the Centre for retreats and holiday breaks.

The Centre is open all year round, though courses only run between March and October. When visiting the Centre, you are free to spend your day in any way you wish, though most courses and retreats have their own individual daily programme.

Meals are at set times of the day, and there is also the opportunity to join the resident volunteers in their daily meditation schedule. Volunteer workshops are held at the beginning and end of the main season and provide a wonderful, informal way for guests to be part of island life. Individuals who would like to volunteer for a while in the kitchen, housekeeping, maintenance, garden or landscape conservation are always much appreciated.
Accommodation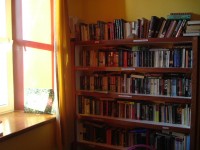 The Centre provides accommodation for over 60 people in a range of rooms including singles, twins and dormitories. Altogether there are 25 single rooms, 8 twin rooms and 3 dormitories (which can each accommodate 8 people). Each of the rooms is fully furnished, has central heating and a small wash basin. The dining room, with its quarry tile floor and open fireplace, provides a warm rustic place for social gatherings, while the peaceful space of the library will be for quiet contemplation.
For tariffs, please go to the Visiting section.
The Peace Hall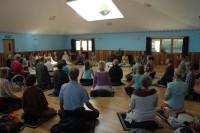 Since its opening, the Peace Hall has hosted many courses, workshops and conferences each year between March and October. The Peace Hall is big enough to seat a hundred people, but is also designed to function beautifully as a spacious room for a vast diversity of workshops. It has inspiring acoustics, and under-floor and overhead heating. Natural light streams in from two sides and from the high pyramidal ceiling.
So far, courses held in the Peace Hall have included meditation, yoga, Tai Chi, Qigong, interfaith dialogue, craniosacral therapy, voice workshops, dance, massage, and Reiki. For a couple of years in a row, the highly revered Tibetan Buddhist teacher Khenpo Tsultrim Gyamtso Rinpoche came to Holy Isle to teach for a week, drawing about one hundred students from all over the world. In 2003 Lama Yeshe hosted an interfaith gathering organised by the Scottish Inter Faith Council. It was attended by leaders from all the major faiths in Scotland, including Muslims, Christians, Hindus, Bahaiis, Sikhs and Buddhists. In the summer of 2006 the Peace Hall was transformed into the decor of a ten day long Tibetan Buddhist ceremony called a Drupchen. Led by Dulmo Choje Rinpoche, a group of twenty Lamas and monks from Tibet and India, together with the Samye Ling monks and nuns and many lay people from a variety of spiritual backgrounds, participated in this unique event. This powerful practice was dedicated to removing obstacles to world peace and transforming negative energy into positive energy.
Read about hiring the Centre for courses and retreats.
Volunteers
Right from the start, Holy Isle Project has been run entirely on volunteer commitment. The planting of trees, dry stone walling, building works, gardening, organising courses, running the Centre, cooking and cleaning... all are done by volunteers. This is quite unusual even within the charity sector, where usually at least a few people "at the top" are paid and thereby offer a greater guarantee that the work will be done.
Since the Centre first opened its doors, the number of volunteers working during the season has grown to about 15, while during the winter there are usually no more than 6 or 7 people living there. Most are here for a few months, but to some Holy Isle becomes home for a longer period of time. Most people who volunteer on the island feel that they have benefited greatly from the experience. Some give up highly paid work to be on the island as a volunteer, purely because they want to give their services, time, and energy to the project. As one volunteer put it: "I can't think of a better motivation for hard work than world peace and health!"